OPINION by DINO PORRAZZO at Right Wing Tribune –
This my friends is sick but you really can't expect any sort of decency from liberal jackasses.
MSNBC hack Joy Reid crossed the line on Friday for suggesting that President Trump was faking his coronavirus diagnosis to "get out of the debates."
What a disgusting liberal pile of trash.
As you all know President Trump and First Lady Melania Trump have contracted the coronavirus.
Liberals rejoiced and went as far as to  publicly announce that they hope that Trump dies from the Chinese disease.
However, hours before it was announced that the president was being transported to Walter Reed Medical Center for a lengthy hospital stay, the "ReidOut" host echoed claims that her "friends" were sending her via text, FOX News reports.
Warning-this is disgusting.
"Here's how wrecked Trump's credibility is at this point: I've got a cellphone full of texts from people who aren't sure whether to believe Trump actually has covid. 'He lies so much,' one friend just texted. 'Is he just doing this to get out of the debates?' others are texting," Reid tweeted on Friday morning.
Reid was alluding to the fallout from Tuesday's chaotic presidential debate and the growing tensions between the Presidential Debate Commission and the Trump campaign over potential rule changes including allowing moderators to cut the microphones of disruptive candidates.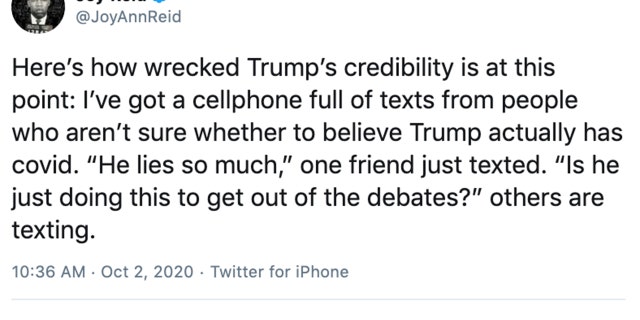 These lunatics are totally demented.
Critics slammed the MSNBC host for the conspiratorial tweet, particularly amid the escalated developments of the president's illness.
"65K likes on this one from a national primetime host. Aged well with the president now on his way to Walter Reed," The Hill media reporter Joe Concha reacted.
65K likes on this one from a national primetime host. Aged well with the president now on his way to Walter Reed. https://t.co/4wf51ThXvC

— Joe Concha (@JoeConchaTV) October 2, 2020
Your friends are basically Qanon but from the left, I'm not sure you're doing you or them any favors by broadcasting this to the world… https://t.co/U8tkf3cANP

— Steve Krakauer (@SteveKrak) October 2, 2020
It looks like the conspiracy theorist who hacked Joy Reid's blog has now apparently hacked her Twitter account too. Cyber security is a serious problem! https://t.co/LG6gNZEVz5

— JERRY DUNLEAVY (@JerryDunleavy) October 2, 2020
LOL!
Too many in the media act as if decency is a violation of the First Amendment.

— Thomas Sowell (@ThomasSowell) October 2, 2020
That pretty much sums it up.
Twitter was inundated with hateful comments about Trump including tweets from Hollywood celebrities, politicians and liberal scumbags.
It's absolutely disgusting but that is who these people are. Angry, hateful piles of garbage.
I'll end with this from Gateway Pundit:
Former Barack Obama staffer and Hillary Clinton national spokeswoman Zara Rahim tweeted out "I hope he dies" after news broke that President Trump came down with coronavirus.
This is absolutely disgusting. These liberals are nothing but SCUM!
THAT'S MY OPINION AND IF YOU LIBERAL FACTCHECKERS DON'T LIKE IT YOU CAN KISS MY ASS.
#PRAYFORTHETRUMPS
#PRAYFORAMERICA
Scroll down to leave a comment!
Join us at SPREELY if you want REAL NEWS without the leftist censorship!
Also join us at MUMBLIT! 
DINO PORRAZZO at Right Wing Tribune
Join me on Twitter! 
God Bless.
Right Wing Tribune Is Proud To Be Listed As #15 On The Top 40 Conservative Political Blogs!