Last night, the Wendy's in southwest Atlanta, GA, where the death Rayshard Brooks took place at the hands of Atlanta Police officers, was torched by protesters.
The far-left mainstream media is doing their part to keep the unrest in America alive and well leading up the to 2020 elections. They're ensuring that their viewers see tons of videos showing black protesters berating and screaming in the faces of Atlanta Police officers who had nothing to do with the death of Rayshard Brooks.
The Democrat Party propagandist media even shared videos of Wendy's burning to the ground last night, as a way to help Americans understand the deep frustration of the black community over the unjust death of another unarmed black man. But will the mainstream media show you the video taken by a black man at the protest who reveals it was actually a white woman who started the fire at the Wendy's?
The first video shows a video of the fire trucks being blocked as they try to approach the burning Wendy's.
Atlanta: Wendy's on University Ave. on fire as protests have taken over the interstate in response to the killing of Rayshard Brooks by police on Friday.

Police chief Erika Shields has reportedly resigned following weeks of protest. Video: CBS affiliate pic.twitter.com/6d9OthFBrQ

— Camila (@camilateleSUR) June 14, 2020
The video below is narrated by a black man who can be heard saying, "Look at the white girl trying to burn down the Wendy's!" He clarifies, "This wasn't us…this wasn't us!"
LOL @FoxNewsSunday reports they think the Wendy's Fire was intentionally set! You Think?

Not only was it set, it appears to be set by some white female, using some type of aerosol accelerant. Caught on camera by a local. pic.twitter.com/JarUw2XD5m

— Roscoe B Davis????⭐️⭐️⭐️ (@RoscoeBDavis1) June 14, 2020
*The Atlanta Police Department issued this photo of the suspect: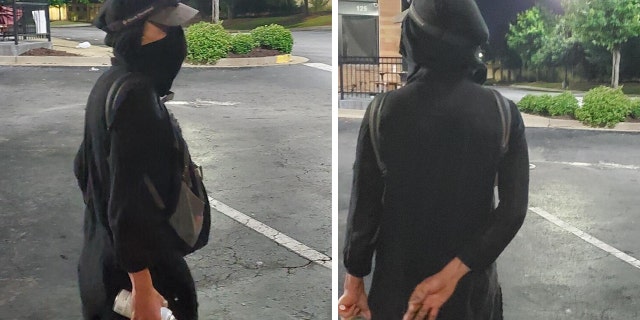 Hmm. Is this the same person? Hard to tell…
The investigation into the incident is ongoing. One police officer was fired, and another is suspended.
Atlanta Police Chief Erika Shields stepped down after the killing of 27-year-old Rayshard Brooks by the Atlanta police. Brooks was fatally shot by officers in a struggle.
Atlanta Mayor Keisha Lance Bottoms said, "I do not believe that this was a justified use of deadly force and have called for the immediate termination of the officer."
Will the dishonest media share this video of the white girl wearing all black (possibly Antifa?) burning down the Wendy's for "justice for Rayshard?"
There seems to be a pattern of white women, wearing black, who burn down buildings and police vehicles during Black Lives Matter protests.
Watch this video of a Black Lives Matter supporter exposing how white Antifa members have been hijacking their movement with violence in this slowed-down video showing them destroying a cop car and setting it on fire:
Right now: Large group gathering at @Atlanta_Police headquarters on Pryor @FOX5Atlanta

So far: I've heard chants such as "police the police." Demonstrators have taken a moment of silence and it appears they plan to keep marching around HQ. pic.twitter.com/vF1oF5ZGEc

— Alex Whittler (@AlexWhittler) June 14, 2020
On Friday, we reported about 25-year-old Margaret Aislinn Channon, of Tacoma WA, who was arrested at her home on Thursday for allegedly burning five police vehicles in downtown Seattle on May 30 during protests over the death of George Floyd.
DOJ: 25-year-old Tacoma woman arrested this morning on 5 federal counts of arson for allegedly burning five Seattle police vehicles in downtown Seattle on May 30 pic.twitter.com/gdry5DmWcP

— Michael Spears (@MichaelKIRO7) June 11, 2020
According to the News Tribune – Federal authorities in full SWAT gear took the 25-year-old woman into custody without incident, according to the U.S. Attorney's office.
A neighbor near the home in the 8400 block of South G Street reported hearing explosions during the raid.
The woman was identified from photos and videos by her numerous and distinctive tattoos, the U.S. Attorney's office said. The videos came from Seattle police, surveillance cameras, broadcast news video, and social media posts.
"This defendant was captured by multiple cameras using an accelerant, lit like a blowtorch, to start fires in five vehicles — putting the public at risk and creating the very real possibility of a structure fire amidst the throng of people protesting downtown," said U.S. Attorney Brian Moran.
A criminal complaint filed in U.S. District Court in Seattle charges the woman, Margaret Aislinn Channon, with five counts of arson.
 Kiro7 – Channon is expected to appear in U.S. District Court in Seattle on Friday. Arson is punishable by up to 10 years in prison.
Officials said investigators from the FBI, the Bureau of Alcohol, Tobacco, Firearms and Explosives, and the Seattle Police Department reviewed videos taken of the arsons May 30 and of a protest held May 29.
Investigators said Channon appeared in videos from both days and said tattoos on her hands and arms were clearly visible.
After reviewing her social media accounts, investigators said they confirmed her identity.
Officials said they executed a search warrant at her home, confirmed her tattoos, and seized clothes and accessories seen in some of the videos of the arsons.
"The number one mission of the FBI is to protect the American people and uphold the Constitution of the United States. The First Amendment guarantees Americans the right to express their opinions and peacefully protest. What it does not provide is the right to invoke violence under the guise of free speech," said FBI Special Agent in Charge Raymond Duda of the Seattle Field Office. "In cooperation with our partners, we will work tirelessly to identify, investigate, and prevent individuals who are inciting violence, and coordinate with the United States Attorney's Office to address any federal violations."
Tell us what you think in the comment section below.
This article originally appeared at 100 Percent FED Up and was republished with permission.
*This article may not be reprinted without expressed permission from 100 Percent FED Up. 
*Some additional material was added.
You can follow 100 Percent FED Up on Twitter by clicking here!
Join us at SPREELY if you want REAL NEWS without the leftist censorship!
Also join us at MUMBLIT! 
DINO PORRAZZO at Right Wing Tribune
Join me on Twitter! 
God Bless.
Right Wing Tribune Is Proud To Be Listed As # 16 On The Top 40 Conservative Political Blogs!