Justice Dept. pushes back on judge's claim AG Barr 'mislead' over Mueller report
The Justice Department is pushing back against a federal judge who has ordered officials to produce an unredacted version of special counsel Robert Mueller's Russia report after claiming Attorney General William Barr misled Congress about its contents and conclusions.
On Tuesday, U.S. District Judge Reggie Walton, current senior judge of the U.S. District Court of the District of Columbia and former presiding judge of the secretive Foreign Intelligence Surveillance Court, wrote in a memo he does not trust Barr's comments regarding the contents of the report or his interpretations of what the special counsel concluded following its investigation into whether President Donald Trump tried to obstruct the Russia probe.
Walton further claimed there are "inconsistencies" between Barr's public statements and what is provided in a redacted version of the special counsel's report. Those alleged inconsistencies "cause the Court to seriously question whether Attorney General Barr made a calculated attempt to influence public discourse about the Mueller Report in favor of President Trump," he wrote.
"The Court has grave concerns about the objectivity of the process that preceded the public release of the redacted version of the Mueller Report" and its "impacts on the Justice Department's subsequent justifications" that the redactions were authorized under the Freedom of Information Act, he added.
DoJ spokeswoman Kerri Kupec responded on Friday, calling the court's assertions "contrary to the facts."
"The original redactions in the public report were made by Department attorneys, in consultation with senior members of Special Counsel Mueller's team, prosecutors in the U.S. Attorney's Offices, and members of the Intelligence Community," Kupec said.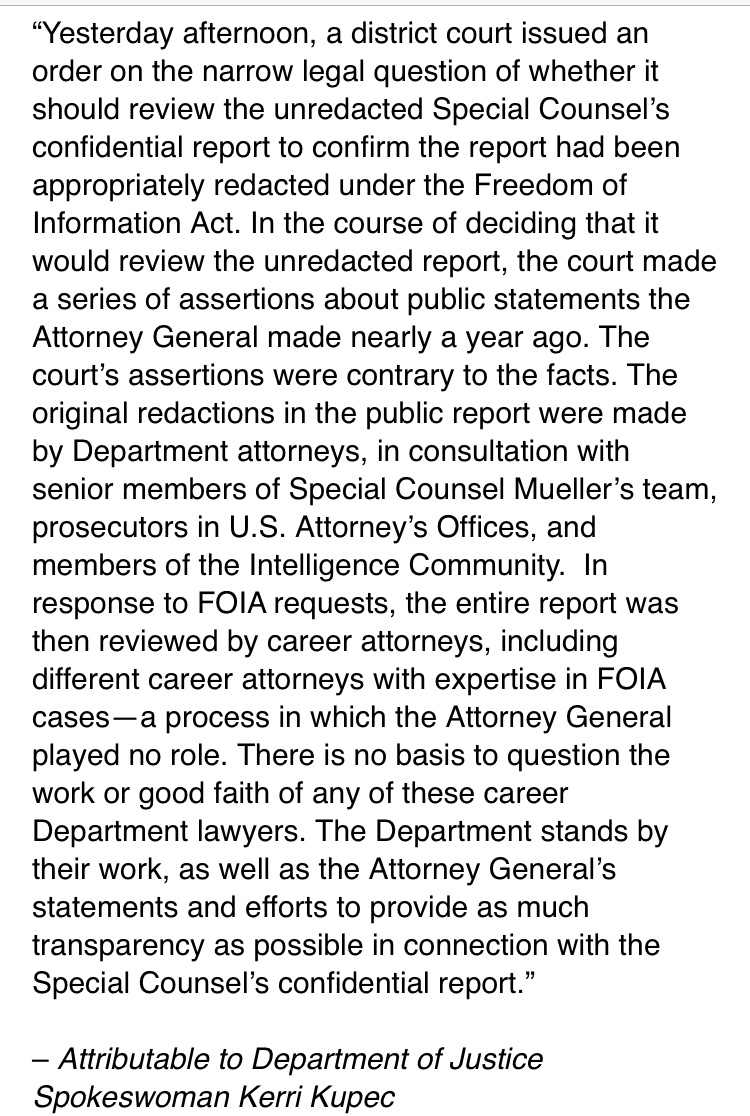 "In response to FOIA requests, the entire report was then reviewed by career attorneys, including different career attorneys with expertise in FOIA cases — a process in which the Attorney General played no role. There is no basis to question the work or good faith of any of these career Department lawyers," she added.
Kupec said the Justice Department "stands by" the work of the department officials who made the redaction decisions while defending Barr's "efforts to provide as much transparency as possible in connection with the Special Counsel's confidential report."
This article originally appeared at USA Features News and was republished with permission.
Some edits were made.
Join us at SPREELY if you want REAL NEWS without the leftist censorship!
Dean James at Right Wing Tribune
God Bless.