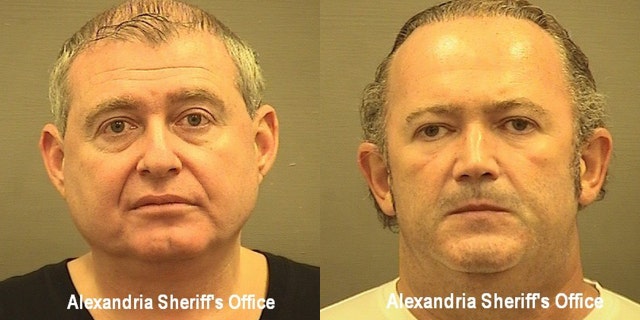 Lev Parnas (left) and Igor Fruman (right) are accused of using a limited liability company to make political contributions related to American elections. (Courtesy of Alexandria Sheriff's office)
Dean James at Right Wing Tribune
Two associates of Rudy Giuliani who have been linked to his investigations in Ukraine were arrested late Wednesday and have been  indicted for campaign finance violations, according to court documents released Thursday morning.
Lev Parnas and Igor Fruman are accused of using a limited liability company to make political contributions related to American elections, in violation of FEC prohibitions against contributions from foreign nationals, FOX News reports. Both men have been linked to Giuliani's efforts to conduct investigations in Ukraine.
Parnas and Fruman created Global Energy Producers (GEP), and allegedly funneled money through the company.
The two men had been planning to fly to Vienna on Wednesday night, but Federal authorities were waiting for them and arrested them before they could catch their flight.
From FOX:
"Parnas and Fruman, who had no significant prior history of political donations, sought to advance their personal financial interests and the political interests of at least one Ukrainian government official with whom they were working," the indictment, filed in the Southern District of New York, says.
A federal law enforcement source told Fox News that Parnas and Fruman were arrested Wednesday at Dulles International Airport in Virginia. Attorney General Bill Barr has been "aware and supportive" of SDNY officials and knew that both men would be arrested and charged Wednesday, a senior Justice Department official told Fox News.
Giuliani told Fox News that he represents Parnas and Fruman on a separate matter and called their arrest and indictment "timing suspect." He stated that he "will reveal relevant facts very very shortly."
Giuliani, an attorney for President Trump, said he finds it "extremely suspicious" that the arrest was made in connection with an FEC matter that has yet to be resolved, and which Giuliani said is a civil matter. Giuliani acknowledged that both men "logistically helped" in his collection of evidence against Hunter Biden, and that they helped connect him with former Ukrainian top prosecutors Viktor Shokin and Yuriy Lutsenko.
Chuck Ross at The Daily Caller News Foundation reports that the charges involve so-called "straw" payment of $325,000 that Parnas and Fruman made to a political committees in 2018. The committee is not identified in the indictment, but it has been previously reported that the pair gave that amount to a pro-Trump super PAC.
The indictment also points to $3 million in contributions from the PAC to a U.S. congressman who appears to be former Republican Rep. Pete Sessions.
According to the indictment, at around the time that Parnas and Fruman began raising funds for Sessions, Parnas met with the congressman to seek his assistance "in causing the U.S. government to remove or recall the then-U.S. Ambassador to Ukraine."
"PARNAS's efforts to remove the Ambassador were conducted, at least in part, at the request of one or more Ukrainian government officials," the indictment says.
The indictment also describes a $2,700 payment that Parnas made to the congressman. Federal Election Commission records show that Parnas gave that amount to Sessions on June 25, 2018.
In May 2018, Sessions sent a letter to Sec. of State Mike Pompeo calling for the removal of Marie Yovanovitch as ambassador to Ukraine. Sessions alleged that Yovanovitch displayed an "anti-Trump bias." Yovanovitch has since been removed from that position.
Parnas and Fruman also worked closely with Giuliani to collect information about Biden and possible Ukrainian meddling in the 2016 U.S. presidential election.
According to FEC records, GEP contributed $325,000 in May 2018 to pro-Trump super PAC America First Action.  In a statement, a spokesperson for America First Action noted that a complaint was filed with the FEC in July 2018 over this contribution, as well as separate litigation in Florida. The statement said that the money was placed "in a segregated bank account," was not used, and "will remain in this segregated account until these matters are resolved."
"We take our legal obligations seriously and scrupulously comply with the law and any suggestion otherwise is false," the statement said.
Following the indictment, House Intelligence Committee Chairman Rep. Adam B. Schiff, D-Calif., House Oversight Committee Chairman Rep. Elijah E. Cummings, D-Md., and House Foreign Affairs Committee Chairman Rep. Eliot L. Engel, D-N.Y., sent a letter accompanying subpoenas for Parnas and Fruman for documents pertaining to the impeachment investigation of President Trump.
"In addition to providing the subpoenaed documents, the Committees also expect your clients to appear to testify about these matters at a later date," the letter said.
Scroll down to leave a comment!
Join us at SPREELY if you want REAL NEWS without the leftist censorship!
Dean James at Right Wing Tribune
God Bless.