OPINION
Chris "Badger" Thomas RIGHT WING TRIBUNE–
An armed man reportedly wearing body armor and pushing a shopping cart at a Walmart store in Missouri on Thursday led a store manager to pull the fire alarm and sent customers fleeing — but an armed off-duty firefighter was able to detain the man until police officers arrived, Springfield police said, Fox News reports.
The Springfield News-Leader quoted Lt. Mike Lucas as saying that the man arrived Thursday afternoon wearing body armor and military-style clothing. He walked inside the Walmart carrying a "tactical rifle" and another gun. Lucas said the man had more than 100 rounds of ammunition.
Lucas told KYTV that the suspect's intent was "to cause chaos."
"His intent was not to cause peace or comfort to anybody that was in the business here," Lucas said. "In fact, he's lucky he's alive still, to be honest."
"He certainly had the capability and the potential to harm people. And then what has happened in Texas and Dayton and all that kind of stuff the last seven days, that is on everybody's mind," he added
It wasn't immediately clear if Andreychenko told cops why he was at the store, however, the incident comes five days after a mass shooting at a Walmart store in El Paso, Texas, that resulted in 22 deaths.
The suspect has been identified as 20-year-old Dmitriy Nickolayvich Andreychenko.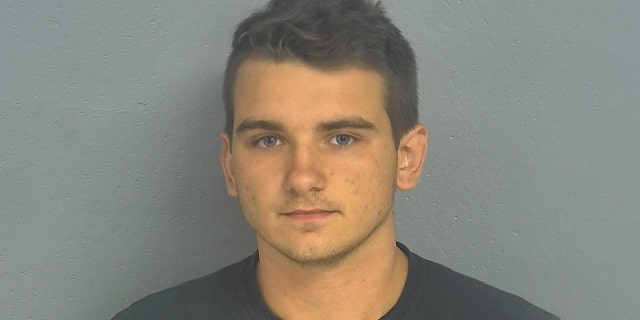 Police in Missouri identified the armed suspect that entered a Springfield Walmart on Thursday as 20-year-old Dmitriy Nickolayvich Andreychenko, who was reportedly stopped at gunpoint by a former firefighter before being taken into custody by police. (Greene County Sheriff's Office)
SPD Arrests Armed Man in Southwest Springfield
"At approximately 4:10 p.m. Springfield Police Officers were dispatched to 3150 W. Republic Rd. to a Walmart Neighborhood Market. An armed white male in his twenties was detained by an armed off-duty fireman until officers arrived on scene and took the suspect into custody. No injuries were reported and no shots were fired. At this time, the investigation is on-going and we are working to determine his motives.
Any person that was present during this incident and did not speak to a police officer, please contact the Springfield Police Department to file a report and provide further information at (417) 864-1810."
Case number: 19-30323
Media Contact: Jasmine Bailey, Public Affairs Officer
417-864-1786
JNBailey@springfieldmo.gov
Release authorized by Lt. Culley Wilson
Update:
"On the afternoon of Thursday, Aug. 8, 2019, Springfield Police Officers arrested 20-year-old (DOB: 09/29/1998) Dmitriy N. Andreychenko for 1st degree making a terrorist threat.
The case is currently under review by the Greene County Prosecutor. Once formal charges are filed by the Greene County Prosecutor's Office more detailed information will be released.
Thank you to members of the media and the community of Springfield for your patience as this investigation continues."
 (Photo submitted by Julie Belew)
Already the mainstream media is using this event as fear bait, using words like "assault tactical clothing" as well as "assault weapons".  That is clearly from news outlets ran by individuals who nothing about firearms, gear and clothing.  They are doing exactly what the Democrats have pulled their strings to do, instilling fear into the sheep in order to ultimately disarm every citizen.
Thank God that the situation ended peacefully.
Chris "Badger" Thomas is a Veteran who served our country as an Army Combat Medic.
Join us at SPREELY if you want REAL NEWS without the leftist censorship!
Dean James at Right Wing Tribune
God Bless.