CALIFORNIA – A commercial diving vessel carrying 39 people caught fire off Santa Cruz Island early Monday morning and sank, officials have confirmed.
At least 34 people are feared dead, officials have confirmed.
The Coast Guard said it responded after overhearing a Mayday call around 3:15 a.m.
Fox News reports that firefighters from two local fire departments were fighting the fire when the vessel sank 20 yards offshore in 64 feet of water, the Coast Guard said in a news release.
Those unaccounted for were the boat's 34 passengers who were sleeping below deck when the fire started, Coast Guard Capt. Monica Rochester told a news conference.
She said the five who were rescued were the boat's crew, including the captain.
"The crew was already awake and jumped off the bridge into the water," she said.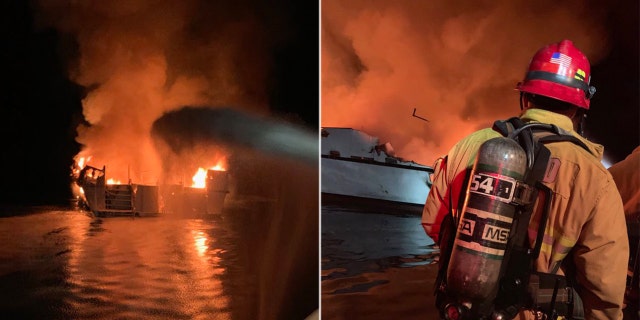 A tweet from VCFD said they responded to boat fire off the north side of Santa Cruz Island at approximately 3:28am.(VCFD)
California Coast Guard says a rescue mission is underway after an early morning boating accident near Santa Cruz Island. MORE: https://t.co/nukdt894Oa pic.twitter.com/fSIE2yhNYT

— FOX 46 Charlotte (@FOX46News) September 2, 2019
The Coast Guard responded with two helicopters, two 45-foot Swift boats and an 87-foot cutter.
Officer Nathan Alldredge of the Santa Barbara Harbor Patrol told Fox News that they responded to a Mayday call for the diving boat Conception which is based in Santa Barbara Harbor. The officer said the boat is a fully- equipped 75-foot commercial diving boat that takes out recreational scuba divers and is able to spend multiple days out at sea.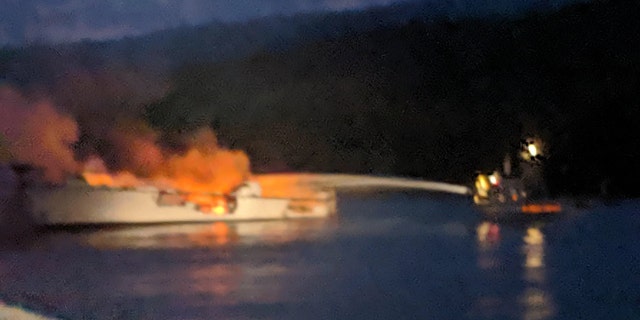 Fire officials said the Conception based in Santa Barbara Harbor was anchored off Santa Cruz Island when it caught fire around 3:30 a.m. Monday.  (Santa Barbara County Fire Department)
UPDATE: This photo shows the burned out "Conception just before it sank off the Santa Cruz Island coast. Latest here: https://t.co/k37XtD6Lga (Courtesy: @VCFD_PIO) pic.twitter.com/LEaSkLHYBv

— CBS Los Angeles (@CBSLA) September 2, 2019
An investigation is ongoing.
Our thoughts and prayers go out to everyone involved in this tragic event.
Join us at SPREELY if you want REAL NEWS without the leftist censorship!
Dean James at Right Wing Tribune
God Bless.