Dean James at Right Wing Tribune
Former President Bill Clinton was a much more frequent flyer on a registered sex offender's infamous jet than previously reported, with flight logs showing the former president taking at least 26 trips aboard the "Lolita Express" — even apparently ditching his Secret Service detail for at least five of the flights, according to records obtained by FoxNews.com.
Clinton's presence aboard Jeffrey Epstein's Boeing 727 on 11 occasions has been reported, but flight logs show the number is more than double that, and trips between 2001 and 2003 included extended junkets around the world with Epstein and fellow passengers identified on manifests by their initials or first names, including "Tatiana."
The tricked-out jet earned its Nabakov-inspired nickname because it was reportedly outfitted with a bed where passengers had group sex with young girls.
Epstein, who counts among his pals royal figures, heads of state, celebrities and fellow billionaires, spent 13 months in prison and home detention for solicitation and procurement of minors for prostitution.
He allegedly had a team of traffickers who procured girls as young as 12 to service his friends on "Orgy Island," an estate on Epstein's 72-acre island, called Little St. James, in the U.S. Virgin Islands.
The Federalaist Papers reports that after the arrest of convicted pedophile and alleged sex slave trafficker Jeffrey Epstein on Saturday many are wondering what involvement, if any, former President Bill Clinton had.
But President Trump is not wondering, because, at the 2015 Conservative Political Action Conference, he made his prediction when asked about the former president.
WATCH:
"Nice guy, got a lot of problems coming up, in my opinion, with the famous island with Jeffrey Epstein," he said at the event.
Epstein's arrest came after a U.S. Court of Appeals for the Second Circuit on Wednesday decided to uncover the details of his sordid sex secrets, The New York Daily News reported.
An Appeals Court has ordered that potentially explosive documents linked to the Jeffrey Epstein case be unsealed, while asking the media to "exercise restraint."
In a 27-page decision, the 2nd Circuit Court of Appeals ruled that the public's right of access to court papers overrides the privacy concerns of certain individuals.
The records will not be made public immediately. Mystery litigants in favor of keeping them sealed have roughly two weeks to file a formal request asking that all the 2nd Circuit judges consider their arguments.
The documents were filed in a mostly-secret case pitting alleged Epstein victim Virginia Giuffre against the multi-millionaire's alleged madam, Ghislane Maxwell.
The contentious case is believed to feature salacious allegations about the sex habits of Epstein's famous friends. The disgraced hedge fund manager once socialized with the likes of Bill Clinton, Kevin Spacey, Woody Allen and President Trump. He was allowed to plead guilty in 2008 to soliciting an underage girl for prostitution, despite evidence of an international sex trafficking operation.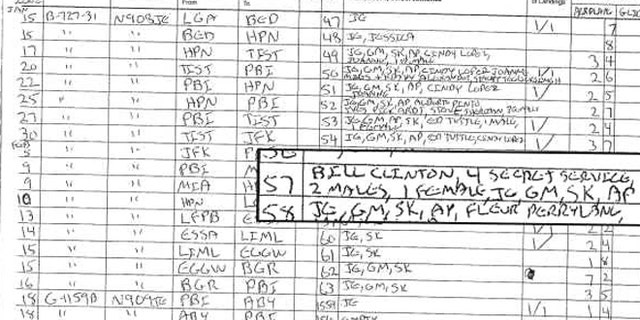 Official flight logs filed with the Federal Aviation Administration show Clinton traveled on some of the trips with as many as 10 U.S. Secret Service agents. However, on a five-leg Asia trip between May 22 and May 25, 2002, not a single Secret Service agent is listed. The U.S. Secret Service has declined to answer multiple Freedom of Information Act requests filed by FoxNews.com seeking information on these trips. Clinton would have been required to file a form to dismiss the agent detail, a former Secret Service agent told FoxNews.com.
In response to a separate FOIA request from FoxNews.com, the U.S. Secret Service said it has no records showing agents were ever on the island with Clinton.
Florida attorney Brad Edwards, who represented some of Epstein's alleged victims, is suing the federal government over the secret non-prosecution agreement in hopes of having it overturned. Edwards claimed in court records that the government and Epstein concealed the deal from the victims "to prevent them from voicing any objection, and to avoid the firestorm of controversy that would have arisen if it had become known that the Government was immunizing a politically-connected billionaire and all of his co-conspirators from prosecution of hundreds of federal sex crimes against minor girls."
While Epstein was indicted and jailed for his pedophilia, Bill Clinton oddly has remained unscathed, more than likely by having friends in high places.
If Bill Clinton is in fact a pedophile, will the American people demand that he be put away for a very long time so that he can't hurt any more children? Or will having friends in high places exempt him from the rule of law?
Unfortunately, I think we all know the answer.
God Bless.
Join us at SPREELY if you want REAL NEWS without the leftist censorship!
Dean James at Right Wing Tribune
God Bless.