Levin: Impanel grand jury NOW and move against Comey and his deep state 'Spygate' conspirators
By JonDougherty at The National Sentinel
It's pretty obvious that fired FBI Director James Comey is getting nervous about his future because he's projecting what it could possibly be onto POTUS Donald Trump.
On Thursday, Comey continued to insist that president is guilty — of something — and that if he loses in 2020, he could be summarily indicted by the Justice Department for — something — after he officially leaves office.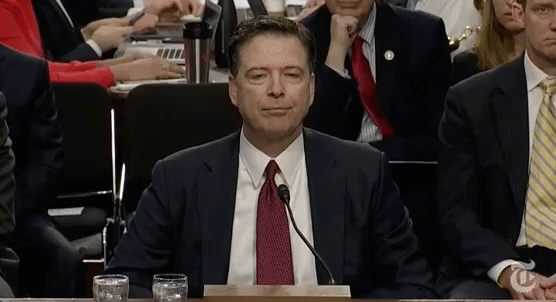 The Washington Times reported:
Former FBI Director James B. Comey said Thursday that he thinks President Trump likely has committed crimes that could be cause for indictment once he leaves office and, were he not president, likely would already have been indicted.
In a CNN town-hall-style meeting, Mr. Comey was asked by host Anderson Cooper whether Mr. Trumpacted with corrupt intent to interfere with an ongoing investigation.
"It sure looks that way," Mr. Comey replied, saying he based that judgment on his reading of special counsel Robert Mueller's report and leaning most heavily on Mr. Trump's order to White House Counsel Don McGahn to fire Mr. Mueller.
Boy, for a 'Republican,' Comey has sure become a fav of the Left-wing media these days, hasn't he? The worst part for him is that he appeared on CNN, which means hardly anyone saw him.
Never mind that, according to Attorney General William Barr, former special counsel Robert Mueller told him specifically that his decision not to file any charges against the president had nothingto do with Justice Department policy regarding the indictment of a sitting president. Asked whether the Justice Department's policy against indicting a sitting president "had anything to do with" Mueller's refusal to reach a decision on obstruction of justice, Barr responded that Mueller "made it very clear that … [h]e was not saying that but for the [Office of Legal Counsel] OLC opinion, he would have found a crime."
And never mind that no matter what the president said, he never'obstructed' Mueller's probe. He provided documents, witnesses, and resources; never fired Mueller or anyone on his staff; never ordered him fired; never actually impeded the probe on any level. So…obstruction? How?
But let's play along. Recall that Comey is the hack who allowed Hillary Clinton — allowed her — to get away scot-free after her serial criminal violations of the Espionage Act, having exchanged highly classified information via her home-brew, unsecured email server.
And why? Because Comey was just so sure that's who he'd be working for come January 2017 when it came time to inaugurate a new president.
Wrong.
But Comey isn't just guilty of making bad career decisions. He, himself, could be guilty of sedition, at most, and improperly revealing classified information at the least, when he leaked memos of, supposedly, his conversations with President Trump.
All conversations with the president are considered instantly classified, which means Comey violated executive privilege and…the law. And we now know, thanks to some crack investigative reporting by Sara A. Carter and The Hill's John Solomon that Comey and his FBI were well aware of the fact that the infamous "Steele Dossier" was phony opposition research when they used it to justify a FISA court warrant to spy on Team Trump.
And Comey, by the way, signed the first FISA warrant application. So just who is in legal jeopardy here?
So, what's Comey talking about, really? Could very well be he's trying to deflect from his own guilt by projecting alleged guilty onto the president. Either way, former Justice Department chief of staff and constitutional expert Mark Levin believes now is the time for AG Barr to impanel a grand jury of his own and haul Comey and his Spygate co-conspirators in to testify before it, under oath.
Levin noted on Fox News' "Hannity" Thursday night:
What oughta happen here is there ought to be a grand jury impaneled. Comey should give testimony. [Fired FBI Deputy Director Andrew] McCabe should give testimony. [Former top FBI lawyer James] Baker should give testimony. [Fired FBI counterintelligence agent Peter] Strzok. [Former FBI lawyer Lisa] Page. The whole cabal should be giving testimony.
We should have a criminal grand jury, and we should have either a special counsel or a United States Attorney take case and get to the bottom of it. Put these people under oath, and let them get the Donald Trump treatment. We want all their documents, no privileges, nothing. Drag them in, and you know, maybe drag their kids in, too.
Watch:
This article was written by JonDougherty at The National Sentinel and was republished with permission.
God Bless.