Chris "Badger" Thomas RIGHT WING TRIBUNE–
Freshman Democratic Congresswoman Rashida Tlaib appeared to clash with party leadership on Wednesday after joining protesters to say she'd introduce a resolution this month urging the Judiciary Committee to move forward with impeachment proceedings against President Trump, Fox News reports.
Tlaib, D-Mich., joined protesters on Capitol Hill to described what she called an "emergency" conveyed to her by her constituents.
"We want to be able to work on these economic justice issues, racial justice issues and everything. But guess what? There is a wall there, and a constitutional crisis that is not going to be able to have us be able to do our jobs as American Congress members to push a lot of these agendas forward.

"This last election was a calling, I mean we saw record turnout in an election year where people wanted to elect the jury that would begin the impeachment proceedings to Donald Trump.

This is not to say that we disagree. I think that every single colleague of mine agrees there are impeachable offenses. That's one thing we all agree on. We may disagree on the pace. We may disagree that we have to wait on certain hearings, but at the same time, I think they all know the dangers of allowing President Trump to continue to violate our United States Constitution."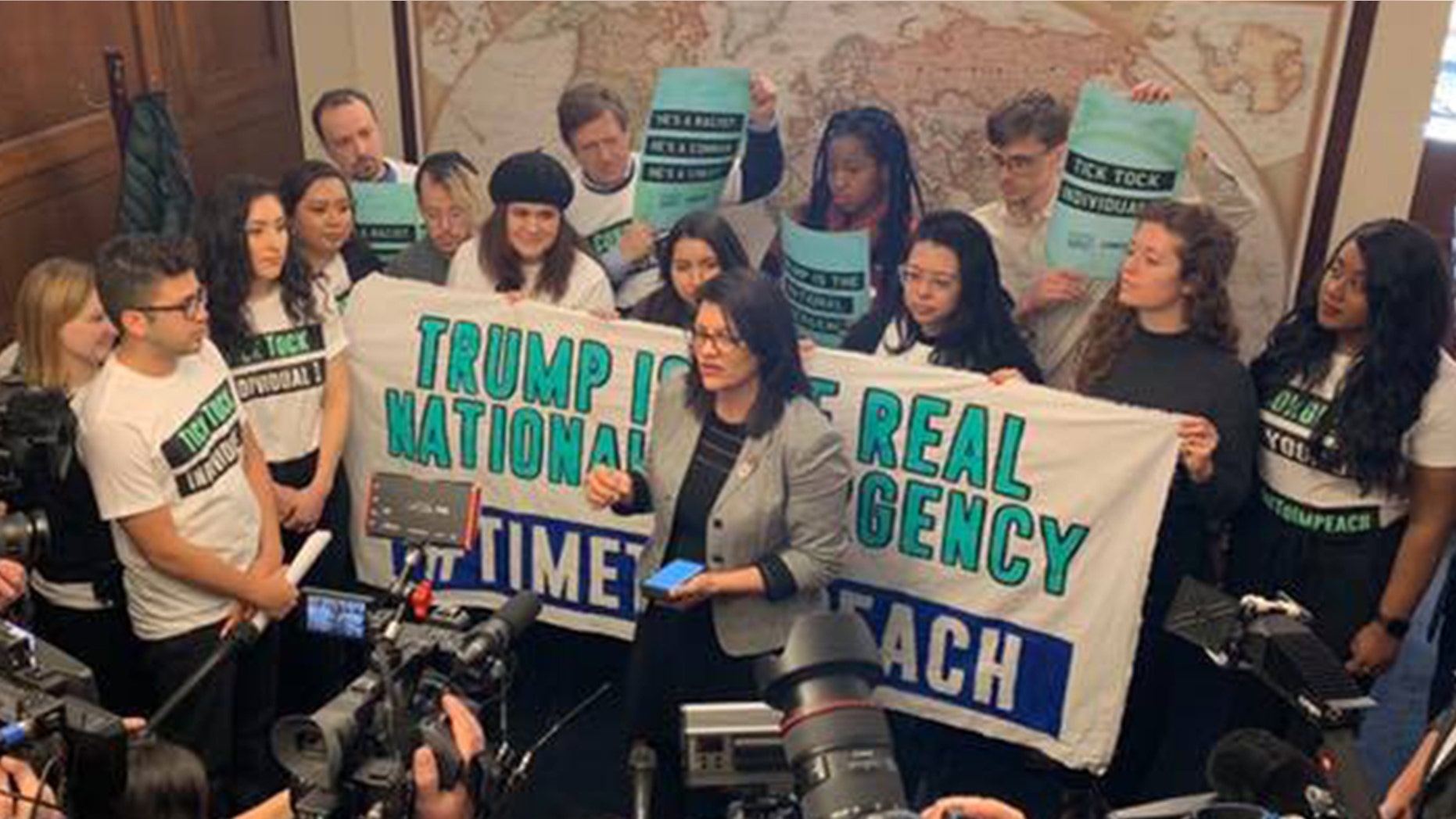 Rep. Rashida Tlaib joined protesters with CREDO Action and By the People, a new advocacy group pushing for the impeachment of President Trump. Together they urged members of Congress to begin impeachment proceedings. (Congresswoman Rashida Tlaib)
Today, I announced that later this month, I will be introducing a resolution to have the Judiciary Committee move on investigating grounds for impeachment. Our democracy must be protected. @by_the_ppl @CREDOMobile #accountabilityNow pic.twitter.com/qWXfE6zLmp

— Rashida Tlaib (@RashidaTlaib) March 6, 2019
This isn't the first time Tlaib has pressed for impeachment.  Rep. Rashida Tlaib — the freshman Democrat whose name ID soared overnight when she was recorded saying she wanted to "impeach the motherf*****" — is working to make good on that claim.
Tlaib, one of the first Muslim women in Congress, said all Democrats agree with her reasons behind calling for the beginning of the impeachment process.
This is History. Watch every second of this.

Rashida Tlaib, the first Palestinian and Muslim American congresswomen, proclaims victory.

Share widely, and be inspired. #ElectionNight pic.twitter.com/oP7qWJyHJK

— Khaled Beydoun (@KhaledBeydoun) November 7, 2018
She is the one who wrapped herself in a "Palestinian" Flag just before being sworn in, has a member of Hezbollah, a major terror group accompany her while she is being sworn in, advocates for the abolishing of all border security and does not believe in the U.S. Constitution.
I was honored to be at Congresswoman @RashidaTlaib swearing in ceremony in #Detroit and private dinner afterward with the entire family, friends and activists across the country. #Palestine #TweetYourThobe #RashidaTlaib pic.twitter.com/caJPN12ODX

— Abbas Hamideh (@Resistance48) January 12, 2019
In the picture, Hamideh is holding a painting of Tlaib in front of the US Capitol while wearing a thobe, a traditional Palestinian gown that she wore during her swearing-in on Capitol Hill. An anti-Israel extremist who heads a "right of return" advocacy group — and has equated Zionism to Nazism and called Israel a "terrorist entity" — attended a Detroit swearing-in reception and dinner party for freshman Rep. Rashida Tlaib, where he posed with her for a photograph.
This is pure insanity.
Chris "Badger" Thomas is a Veteran who served our country as an Army Combat Medic.
GOD BLESS.
When you share to your friends you greatly help distribute our content. Please take a moment and consider sharing this article with your friends and family. Thank you, we appreciate it!