Los Angeles news anchor Chris Burrous died Thursday after being found unresponsive the day before due to a possible overdose.
Burrous, 43, who appeared on the KTLA "Morning News," was found earlier Thursday at a Glendale Days Inn after a male he was with called authorities at about 1:15 p.m., Glendale police said in a news release. Burrous, who is survived by his wife and a 9-year-old daughter, reportedly passed out in the room and was not breathing.
Glendale Police Investigate the Death of Man

Post Date:

12/27/2018 10:14 PM

Sgt. Dan Suttles, Media Contact
818-548-3140 (office)
818-484-1089 (cell)
[email protected]

On December 27, 2018, at 1:14 p.m. the Glendale Police Department received a call from a male that said that an individual he was with had passed out and was possibly not breathing.  The caller indicated he was at the Days Inn in Glendale.

The Glendale Fire Department responded to the scene and found a man down inside a room suffering from a medical emergency.  The man was not breathing and CPR was administered as paramedics prepared to transport him to the hospital.  The man was later pronounced dead at the hospital.

The deceased has been identified as Chris Burrous, a 43-year old man from Porter Ranch.

take our poll - story continues below

Completing this poll grants you access to Right Wing Tribune updates free of charge. You may opt out at anytime. You also agree to this site's Privacy Policy and Terms of Use.

The original call to the Glendale Police Department indicated the deceased had possibly overdosed.  Glendale detectives are currently investigating the case and are thoroughly examining the unfortunate circumstances surrounding his death. Detectives will be awaiting the Los Angeles County Coroner's Office report for a determination of the cause of death and to assist in bringing the investigation to a conclusion.
The male he was with, who appeared to be a friend of Burrous, was already giving the anchor aid as first responders arrived, Glendale police Sgt. Dan Suttles said, according to KTLA. Suttles praised the friend for helping, saying he "quite honestly did a good job of trying to render aid."
From FOX News:
Trending: Pelosi's Son Now Involved In Ukraine Scandal- Democrat Party In Shambles
Burrous was transported to a hospital where he later died, police said.
"What we know at this point is that the call came in as a medical emergency, and that's how it was handled," Suttles said, adding there was no indication of suicide.
"Glendale detectives are currently investigating the case and are thoroughly examining the unfortunate circumstances surrounding his death," police said in the news release. "Detectives will be awaiting the Los Angeles County Coroner's Office report for a determination of the cause of death and to assist in bringing the investigation to a conclusion."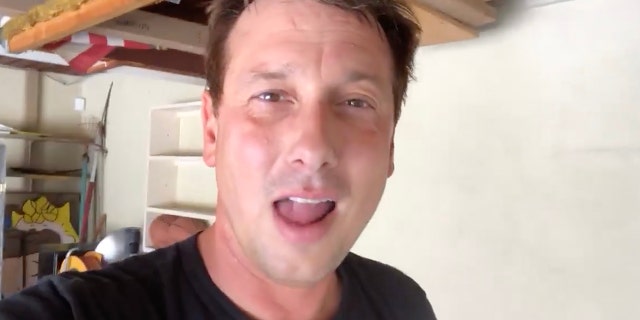 Chris Burrous died after a possible overdose at a California motel. (Facebook)
Burrous joined the station as an anchor and reporter in 2011. He helped expand the "Morning News" program to seven days a week. He formerly worked at WPIX in New York City.
"Our thoughts and prayers go out to the Burrous family. Chris loved sharing the stories of Southern California and connecting with our viewers," KTLA President and General Manager Don Corsini and news director Jason Ball said in a joint statement. "He will be remembered as a great journalist and a wonderful friend to many. He brought a kindness to his work and will be deeply missed by the entire KTLA family."
Rest in peace brother.
When you share to your friends you greatly help distribute our content. Please take a moment and consider sharing this article with your friends and family. Thank you, we appreciate it!
Facebook Has Banned Us!
The leftists at Facebook decided they didn't like our message, so they removed our page and are censoring us. Help us fight back and subscribe to our newsletter so that you can stay up-to-date with everything Facebook doesn't want you to see!