A huge storm system that's bringing heavy snow and freezing rain across a large section of the South is leaving thousands without power Sunday as wintry precipitation blasts the region prompting Governor Cooper to declare a State of Emergency for all 100 counties in North Carolina.
Over 190,000 customers in North Carolina are without power as of 11:30 a.m. ET Sunday as snow and freezing precipitation continue to fall, according to North CarolinaEmergency Management.
"North Carolina is in the cold, icy grip of a mammoth winter storm," North Carolina Gov. Roy Cooper said at a news conference. "Enjoy the beauty but respect the danger. Don't be fooled. This storm is treacherous."
The majority of the power outages are in North Carolina, where the highest amounts of snowfall are expected to fall. The National Weather Service said that more than a foot of snow is possible from North Carolina into south-central Virginia, FOX News reports.
"Travel will be severely affected across much of these areas, and some power outages are likely," the NWS said in its advisory.
Parts of North Carolina are forecast to get up to 18 inches of snow and ice Saturday through Monday along with gusty winds. Nearly all of the state is expected to feel some sort of impact from the storm.
"North Carolina is gearing up for a major winter storm and we're taking all steps necessary to have the resources we need in place to respond," Governor Cooper said. "Snow may be beautiful but it can also be treacherous and I urge North Carolinians to take this storm seriously and get ready for it now."
The Governor declared a State of Emergency to facilitate movement of any resources needed to respond to the storm and ordered that truck weight, size and hours of service restrictions be waived. This allows vehicles carrying essential supplies and equipment and utility trucks working to restore power to get where they are needed quickly.
Declaring a State of Emergency also activates state law against price gouging, or charging too much for goods and services during an emergency. North Carolinians can report potential price gouging to the Attorney General by calling 1-877-5-NO-SCAM or online at ncdoj.gov.
Also today Governor Cooper activated the North Carolina National Guard to assist with storm response as needed. The National Guard has 143 guard members, 43 Humvees and 14 all-terrain trucks ready to respond.
The National Weather Service has issued a Winter Storm Warning for portions of the North Carolina mountains from 7 p.m. Saturday to noon Monday. A Winter Storm Warning means significant amounts of snow, sleet, and ice will make travel very hazardous or impossible. A Winter Storm Watch is in effect for much of western and central North Carolina starting Saturday evening or early Sunday morning through Monday night. A Winter Storm Watch means there is the potential for significant snow, sleet, and freezing rain that will likely impact travel.
#ncwx updates:
* Additional ❄️ amounts expected: 6-12" in the Northern Mountains & NW Piedmont; 4-8" in the Triad; 1-4" in Southern Mountains & Triangle.
* The threat of ice/freezing rain has increased, along the I-85 corridor.
* High probability of widespread power outages. pic.twitter.com/poDNKnrzVU

— NC Emergency Managem (@NCEmergency) December 9, 2018
People who do not need to travel are urged to stay off the roads once conditions become dangerous.
Wet snow and ice along with winds have also lead to power outages from the storm, and utility crews are being mobilized to restore power as quickly as possible.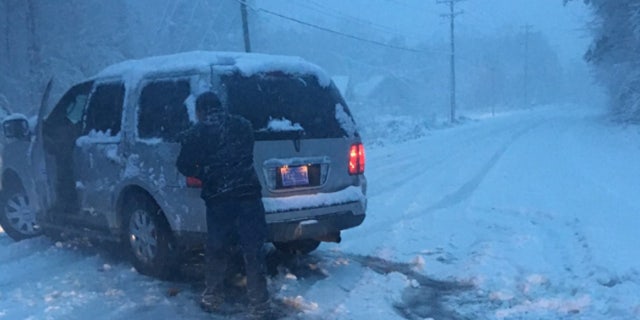 A motorist needed help after at least six inches of snow fell across parts of North Carolina on Sunday. (Durham County Sheriff's Office)
Crews with the N.C. Department of Transportation are pretreating roadways and readying equipment to clear roadways of snow and ice. To respond to the storm, NCDOT has at the ready about 3,000 staff, 2,400 trucks with snow plows, and more than 135,000 tons of salt.
North Carolina Emergency Management officials are tracking the storm closely and working with local Emergency Managers to help as needed. The State Highway Patrol is coordinating with local law enforcement and other emergency responders on plans to check and mark abandoned vehicles to ensure that no one gets left stranded in the cold.
To help ensure you are ready for the storm, Governor Cooper and North Carolina Emergency Management officials urge you to:
•    Monitor weather forecasts closely.
•    Keep enough non-perishable food in your home for 3 days.
•    Keep fresh batteries on hand for weather radios and flashlights.
•     Dress warmly. Wear multiple layers of thin clothing instead of a single layer of thick clothing.
•    Bring pets indoors during the storm and cold weather.
•    Properly vent kerosene heaters and keep any electric generators outside and away from open windows or doors to prevent carbon monoxide poisoning. Never burn charcoal or operate grills indoors.
•    Keep an emergency kit in your vehicle. Include scraper, jumper cables, tow chain, sand/salt, blankets, flashlight, first aid kit and road map.
For more information on how to prepare for winter storms, check the ReadyNC app or visit readync.org. For the latest road conditions, visit DriveNC.gov.
Over 1,100 flights were canceled as of Sunday, according to flight-tracking website FlightAware.
"Travelers are encouraged to frequently check with their air carrier for any cancellations or delays before coming to the airport," the airport said.
Take a look at #Highway98. As you can see plows have been though here but it's still #snowing. Roads are slick and driving is not something you want to attempt this morning. Keep roads clear for plows and emergency vehicles. #NCWx #WinterWeather #DurhamWeather pic.twitter.com/gSCFGDwR09

— Durham Sheriff (@DurhamSheriff) December 9, 2018
"Roads are slick and driving is not something you want to attempt this morning," the Durham County Sheriff's Office said. "Keep roads clear for plows and emergency vehicles."
More than 82,000 were without power in South Carolina, while a total of about 75,000 outages were reported across Tennessee, Alabama, and Mississippi.
Stay safe folks!
When you share to your friends you greatly help distribute our content. Please take a moment and consider sharing this article with your friends and family. Thank you, we appreciate it!