CBP New York/Newark seizes nearly $1.7 Million in Counterfeit Nike Sneakers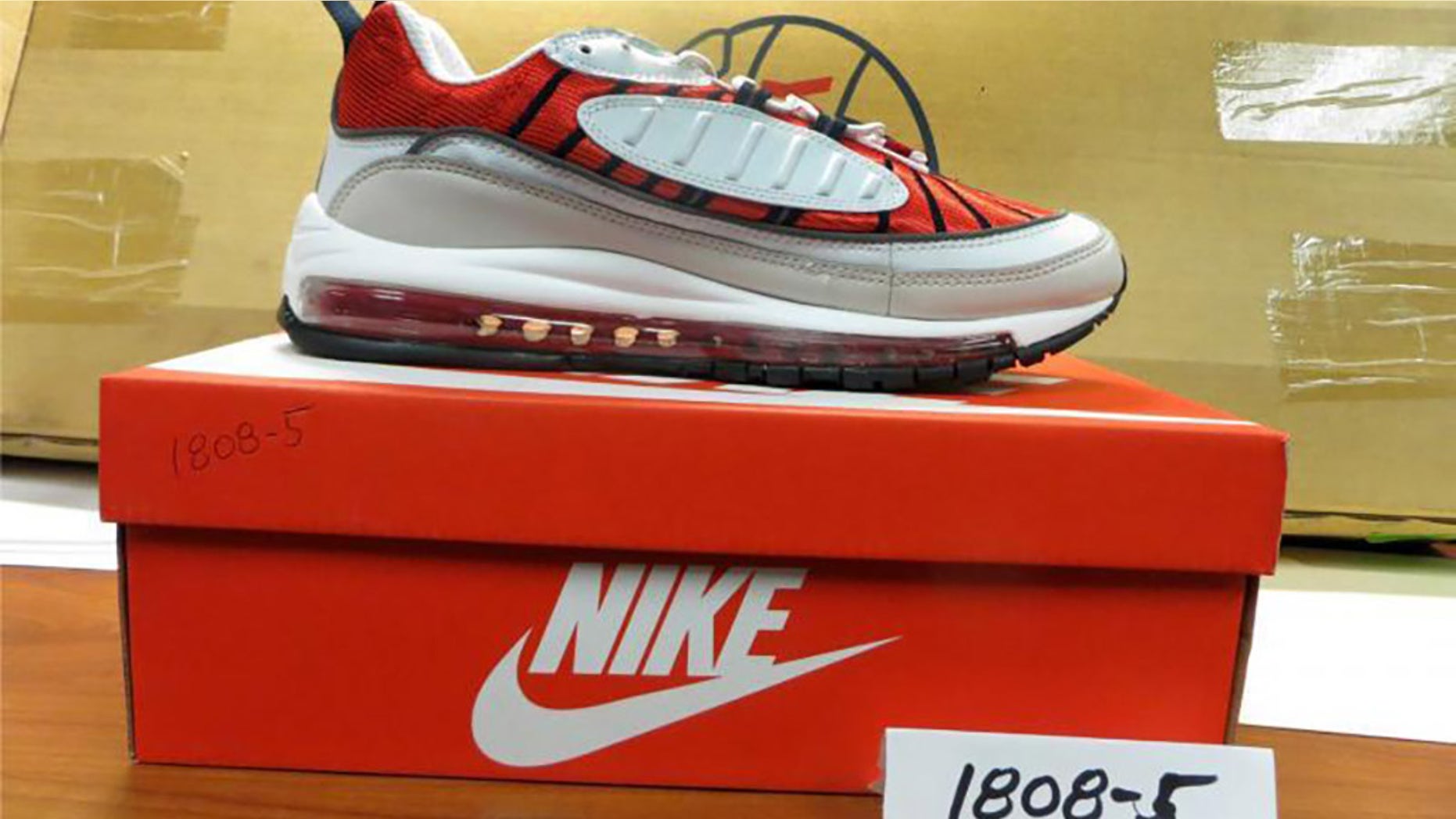 More than 9,000 pairs of imitation Nike sneakers, valued at nearly $1.7 million, were seized by Customs and Border Protection officers at the Port of New York and Newark, N.J., the agency announced Tuesday. (Customs and Border Protection)
NEW YORK – They're known as sneakers, but 9,024 pairs of counterfeit Nike sneakers could not sneak past alert U.S. Customs and Border Protection (CBP) officers at the Port of New York/Newark recently.
If authentic, the sneakers would have a manufacturer's suggested retail price (MSRP) of $1,695,600.
CBP officers inspected the shipment in late September after it arrived from Dongguan City, China.  Officers then submitted digital images of the sneakers to CBP's Apparel Footwear and Textiles Center for Excellence and Expertise, the agency's trade experts. CBP's CEE specialists worked with the trademark holders and determined the sneakers to be counterfeit.
CBP completed the seizure Thursday.  The sneakers were destined to an address in Chino, California.  Immigration and Customs Enforcement's (ICE) Homeland Security Investigations agents in Newark, N.J. continue to investigate.
The total pairs of sneakers equated to 9,024 and had they been real, they would've had a manufacturer's suggested retail price of $1,695,600, CBP said. (Customs and Border Protection)
"This significant seizure of counterfeit Nike sneakers illustrates Customs and Border Protection's continued commitment to protecting the American consumer against the proliferation of substandard and potentially unsafe counterfeit consumer goods," said Troy Miller, Director of CBP's New York Field Office.  "Enforcing Intellectual Property Rights laws is a CBP priority trade mission. We will continue to work closely with our trade and law enforcement partners to identify and seize counterfeit merchandise that could potentially harm U.S. consumers and businesses."
The manufacture of counterfeit goods robs legitimate businesses of revenue, robs American workers of jobs, and poses health and safety threats to U.S. consumers. Oftentimes, the proceeds from counterfeit merchandise sales supports other nefarious and illicit businesses.
CBP protects consumers and businesses every day through an aggressive Intellectual Property Rights (IPR) enforcement program.
On a typical day in 2017, CBP officers seized $3.3 million worth of products with IPR violations. Learn more about what CBP did during "A Typical Day" in 2017.
In Fiscal Year (FY) 2017, the number of IPR seizures increased 8 percent to 34,143 from 31,560 in FY 2016.  The total estimated MSRP of the seized goods, had they been genuine, decreased to $1.2 billion from $1.38 billion in FY 2016. Read more 2017 IPR Enforcement Statistics.
As a result of CBP enforcement efforts, ICE Homeland Security Investigations agents arrested 457 individuals, obtained 288 indictments, and received 242 convictions related to intellectual property crimes in 2017.
If you have information concerning counterfeit merchandise illegally imported into the United States, CBP encourages you to submit an anonymous report through e-Allegations Online Trade Violation Reporting System.
CBP officers inspect travelers and cargo entering the United States and enforces U.S. laws, including immigration, illicit narcotics, unreported currency, weapons, prohibited agriculture, counterfeit consumer goods, and other products to assure that global tourism and trade remains safe and strong.
CBP's border security mission is led at ports of entry by CBP officers from the Office of Field Operations.  Please visit CBP Ports of Entryto learn more about how CBP's Office of Field Operations secures our nation's borders.
Learn more about CBP at CBP.gov.
U.S. Customs and Border Protection is the unified border agency within the Department of Homeland Security charged with the management, control and protection of our nation's borders at and between official ports of entry. CBP is charged with securing the borders of the United States while enforcing hundreds of laws and facilitating lawful trade and travel.
SOURCE – U.S. Customs and Border Protection
WE WANT TO THANK ALL THE BRAVE MEN AND WOMEN WHO HAVE DEDICATED THEIR LIVES TO KEEPING OUR COUNTRY SAFE.
GOD BLESS AMERICA!
When you share to your friends you greatly help distribute our content. Please take a moment and consider sharing this article with your friends and family. Thank you, we appreciate it!