Unhinged Media Inciting 'Unstable People' To 'Very Dangerous' Wave Of Threats Against GOP Lawmakers And Their Children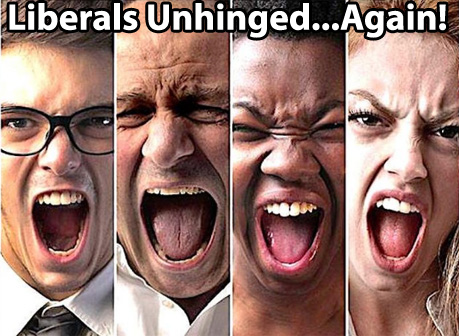 By Susan Duclos – All News PipeLine
Polling consistently shows that Americans by and large see the liberal media bias that overwhelms the establishment media, with 66 percent saying the media is not careful about separating fact from opinion, according to Gallup. While the numbers may vary from different polling organizations, the pattern is the same, as Mammoth University reported in early April that 77 percent of Americans said they believe that major traditional television and newspaper media outlets report  fake news, as was reported by Politico.
While CNN talking heads love to blame President Trump for America's distrust in the establishment media, because he has been very vocal in his criticisms of their "fake news," a look at the historical chart from Gallup, who has been polling Americans regarding their trust in the media since 1972, shows the media has been losing public trust steadily since 1977.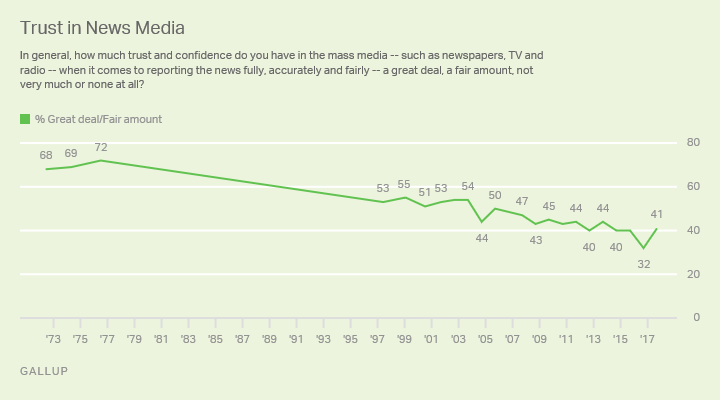 The breakdown is even worse when we see that only 13 percent said they had a "great deal" of trust in the media, with 28 percent saying "fair amount," and 29 percent said they have no trust at all in the media, with another 29 percent listed as "not much."
President Trump didn't destroy their credibility, nor their reputations, they have spent decades doing that all on their own
'VERY DANGEROUS' WAVE OF DEATH THREATS INCITED BY MEDIA HYSTERIA
The establishment media's bias not only leaves Americans misinformed and distrustful, but the level of hysteria being foisted onto Americans on a daily basis by the media is inciting a very dangerous wave of "unstable people" who are now threatening conservatives, GOP lawmakers, and their children.
In early July a man was arrested after threatening to kill Senator Rand Paul, and to "chop up" his family.
During a stop in Leitchfield in western Kentucky, Paul said a man threatened to kill him and "chop up" his family with an ax. 

The Republican lawmaker says it's "just horrendous" that political leaders have to "deal with things like this."
The media hysteria over the repeal of Net Neutrality, incited a man to send three threatening emails to the Federal Communication Commission Chairman Ajit Pai, because of his role in repealing the Obama-era rules. The emails were sent by a man named Markara Man, and according to court documents, included the following threat: "I will find your children and I will kill them."
In another message, Man accused Pai of being responsible for a child's suicide. A third message contained a photo of the chairman and a framed photo with his family, officials said.

Federal agents traced the emails to Man's home in Norwalk, near Los Angeles, and questioned him in May. He confessed to sending the emails under the handle "StubbleManliness@gmail.com" because it sounded "tougher," Politico reported, citing court documents.
That wasn't the first time Pai had been harassed by liberal activists either, as in late 2017 they hung signs outside of Pai's home, with the names of his children on them. Tech/cybersecurity reporter from National Journal, Brendan Bordelon tweeted out the images and reported "I have a friend that lives near @AjitPaiFCC. Net neutrality "activists" posted these signs, featuring his children's names, outside his house. Pizzas also reportedly sent to his house every half-hour last night."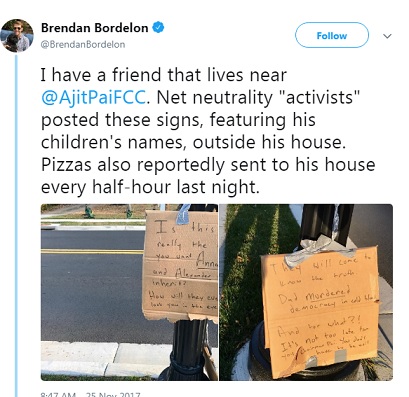 Bordelon continued on to say "The racist memes and the hyperbolic social media attacks are bad enough. This is deeply disturbing."
Pai was quoted by The Hill as saying this crosses a line, continuing on to state "I understand that people are passionate about policy, but the one thing in America that should remain sacred is that families, wives and kids, should remain out of it. And stop harassing us at our homes.
More recently both Homeland Security Secretary Kirstjen Nielsen and White House adviser Stephen Miller were targeted at their homes as well by protesters incited to frenzied levels by the media regarding illegal immigration.
Radio host and columnist Todd Starnes was recently told by Republican Representative Lee Zeldin that he has received many threats that targeted him, his wife and his young daughters, saying "some of the stuff that has been said has been quite sick."
Zeldin also described how an unhinged liberal became so triggered by a Make America Great Again hat, that he nearly ran over one of Zeldin's campaign volunteers.
"When the person saw a 'Make America Great Again' hat inside the car, he became even more incensed, threatening to kill my campaign volunteer, to kill all supporters of President Trump and myself," Zeldin said. 

The New York congressman then told Starnes that "my campaign volunteer got out of the car because he was in a bad position with the person standing over him leaning in, and then the person gets in his vehicle, and nearly hits him."
In June a Florida man was arrested after threatening Republican Representative Brian Mast's children when he called the congressman's office and told an intern who answered the phone "I'm going to find the congressman's kids and kill them. If you are going to separate kids at the border, I'm going to kill his kids."
Remember, the child separation policy was reported back in 2014, with images of children in cages (which liberals falsely claimed were recent images) , but the media converged on massive coverage when the Trump administration implemented a zero-tolerance policy, and incited liberals across the nation into some truly despicable behavior, including celebrities threatening President Trump's youngest child, Barron.
On Friday it was reported that Republican Representative Jason Lewis had to contact Capitol Police after receiving "sick messages" which threatened him and his daughters.
He and others say the current threats, however, are linked to a hostile political environment that has escalated differences into increasingly personal battles. Lewis said "unstable people" are being instigated by "new rhetoric from the left." 

"It's becoming very, very dangerous for members of Congress and our families … the new thing is that, 'you're a bad person because you said something.' It's not even about actions anymore. They're defining speech as a character flaw," Lewis said.

Asked about Lewis' case, Capitol Police said they could not comment on specifics. 

Lewis noted that one report mentioned his comments responding to the question of how his daughters would react to his discussion of the word "slut." The threat "came a day after that CNN article," Lewis said, adding that he believes "that's why the [threat] mentioned my daughters."
While lawmakers on both sides of the aisle regularly receive threats of some nature, and each side blames the rhetoric of the other side, this targeting of conservatives' families, and protests outside of their homes, in conjunction with the dangerous wave of death threats against children, has many on edge.
BOTTOM LINE
The media bias is one thing, but the level of vitriol being spewed by the liberal media, under the guise of "reporting" the news, is quite literally endangering the children of conservatives, Trump administration officials, and lawmakers children.
There is a direct correlation to the media hysteria and death threats being made against lawmakers children. They are outraged almost every single day about one thing or another, and they in turn incite the same level of outrage to their unhinged and in many cases unstable audience,
The most disturbing part about it is the unhinged media appears to be doing it deliberately.
This article originally appeared on ALL NEWS PIPELINE and was republished with full permission. Be sure to check them out!
This article was written by my friend Susan Duclos at All News PipeLine
GOD BLESS.
Dean James III%  RIGHT WING TRIBUNE 
Be sure to follow us on Nation In Distress and America's Freedom Fighters on Facebook!