Dean James III% AMERICA'S FREEDOM FIGHTERS –
Controversy continues to swirl around how the consulting firm Cambridge Analytica obtained personal data from over 50 million Facebook users without their knowledge and used it to target ads to individuals in an effort to help Donald Trump be elected president in 2016, FOX News reports.
But a more serious case of apparent misconduct involves Facebook data going to a different presidential campaign – this time in 2012. In this case, which is getting far less attention,
Facebook reportedly voluntarily provided data on millions of its users to the re-election campaign of President Obama.
If true, such action by Facebook may constitute a major violation of federal campaign finance law as an illegal corporate campaign contribution. The matter should be investigated by the Federal Election Commission. The commission enforces campaign finance laws for congressional and presidential elections.
Daily Mail reports that Facebook allowed the Obama campaign to access the personal data of users during the 2012 campaign because they supported the Democratic candidate according to a high ranking staffer.
Carol Davidsen, who worked as the media director at Obama for America and has spoken about this in the past, explained on Twitter that she and her team were able to ingest massive amounts of information from the social network after getting permission from Facebook users to access their list of friends.
"Facebook was surprised we were able to suck out the whole social graph, but they didn't stop us once they realized that was what we were doing," wrote Davidsen.
Carol Davidsen, (left) who worked as the media director at Obama for America, claims Facebook allowed them to mine American users' profiles in 2012 because they were supportive of the Democrats.
She wrote that, not only did Facebook not try to stop them, but the company said they'd made a special exception for them.
"They came to office in the days following election recruiting & were very candid that they allowed us to do things they wouldn't have allowed someone else to do because they were on our side," she tweeted.
Davidsen was then careful to note: "I am also 100% positive that Facebook activity recruits and staffs people that are on the other side."
Davidsen posted this in the wake of the uproar over Cambridge Analytica, and their mining of information for the Trump campaign.
Hillary Clinton meanwhile refused to access the API that had been created by the Obama campaign with this Facebook information.
Of course.
They came to office in the days following election recruiting & were very candid that they allowed us to do things they wouldn't have allowed someone else to do because they were on our side.

— Carol Davidsen (@cld276) March 19, 2018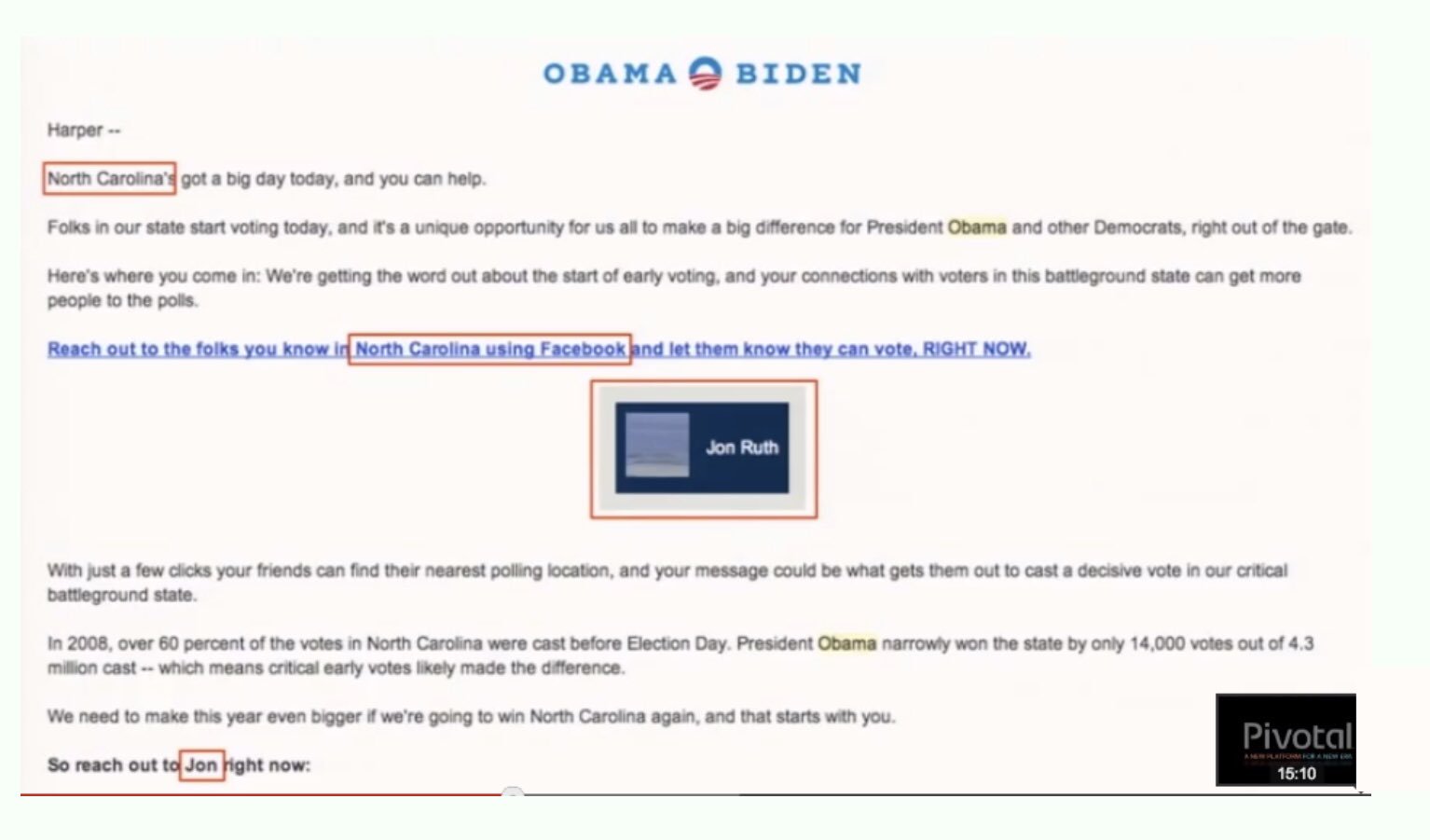 The revelations, if true, mean that Obama's campaign used similar tactics to those of Cambridge Analytica, which worked on President Donald Trump's election campaign, and reportedly harvested private information from more than 50 million Facebook users.
The type of data that the Obama campaign was mining from Facebook is a more sophisticated version of the type of data that has long been provided by professional direct mail marketers – something pioneered by Richard Viguerie. Viguerie, for example, has detailed personal data on "12 million conservative donors and activists" to whom his company sends letters and emails on behalf of his clients. He provides information to campaigns looking for votes and money, and to nonprofit and advocacy organizations raising funds.
Political campaigns must pay for these services. Under a Federal Election Commission regulation, giving a mailing list or something similar to a campaign is considered an "in-kind contribution."
So if Facebook gave the Obama campaign free access to this type of data when it normally does not do so for other entities – or usually charges for such access – then Facebook would appear to have violated the federal ban on in-kind contributions by a corporation. And the Obama campaign may have violated the law by accepting such a corporate contribution.
We all know that Obama got a massive boost from Facebook.
Facebook has caused hundreds of thousands of Conservatives to lose their jobs by discriminating and having their Muslim and liberal admins tweek our newsfeeds while at the same time boosting all liberal sites.
We have proof and when all is said and done, we expect to be compensated for our losses. Our site alone has suffered a loss of  well over a million dollars due to this out of control censorship.
Some of the most high powered lawyers in America are already working on a major class action lawsuit.
Anyways, I hope that during these investigations that all the truth comes out- this isn't just about Trump, Hillary and Obama.
This is about AMERICA!
And if you don't like it  here get the hell out.
God Bless.
Bruce Johnson  RIGHT WING TRIBUNE
Be sure to follow us on Nation In Distress and America's Freedom Fighters on Facebook!