Huny Badger RIGHT WING TRIBUNE–
Current DHS terrorist Alert is at Yellow, "Elevated" Significant risk of terrorist attacks.  Especially for the Holiday Season Islam has promised multiple attacks in New York City and other large cities by Christmas.
An image circulated on an Islamic State-backing online chat group called "Army of Mujahideen" shows what appears to be an IS beheading photo, with a kneeling Santa Claus as its victim, according to New-York based newspaper The Epoch Times. The image is superimposed on an image of the Regent Street shopping area of London.
The words "Soon on your holidays" are written in English, French and German in the image's lower left-hand corner.
The Islamic extremist group released online images and a propaganda video which also depicted London, New York, and Vienna, promising attacks "soon on your holidays… very soon," Kronen Zeitung reports.
The image of Berlin shows an armed terrorist by the Brandenburg Gate with the words: "Berlin will burn."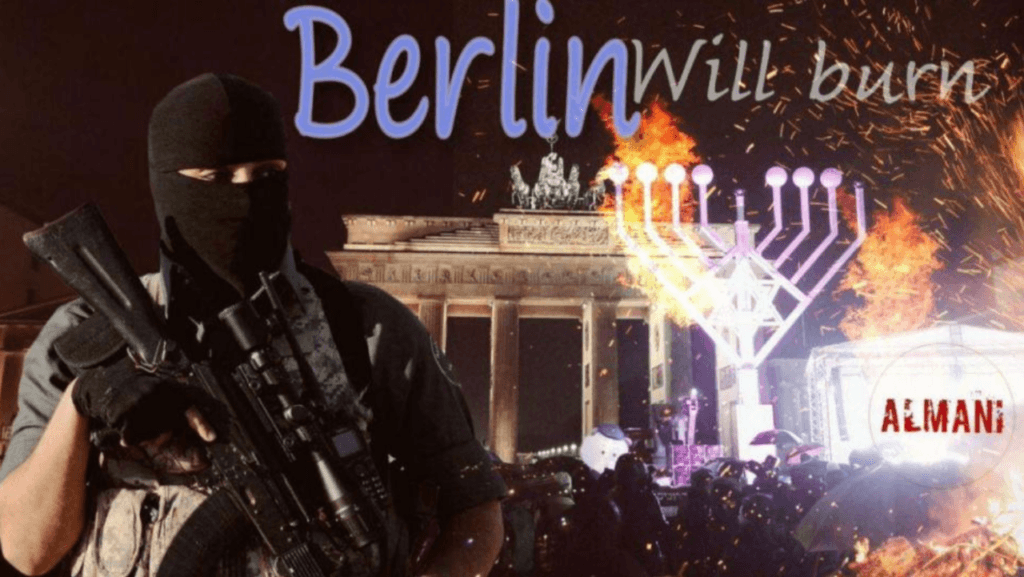 The Department of State alerts U.S. citizens to the heightened risk of terrorist attacks throughout Europe, particularly during the holiday season.
U.S. citizens should exercise caution at holiday festivals and events.  Recent, widely-reported incidents in France, Russia, Sweden, the United Kingdom, Spain, and Finland demonstrate that the Islamic State of Iraq and ash-Sham (ISIS or Da'esh), al-Qa'ida, and their affiliates have the ability to plan and execute terrorist attacks in Europe. Last year, mass casualty attacks occurred at a Christmas market in Berlin, Germany in December and a nightclub in Istanbul, Turkey on New Year's Eve. While local governments continue counterterrorism operations, the Department remains concerned about the potential for future terrorist attacks. U.S. citizens should always be alert to the possibility that terrorist sympathizers or self-radicalized extremists may conduct attacks with little or no warning. 
Islamic State does not have direct control over its affiliates and followers around the world. It coordinates attacks by issuing instructions urging supporters to act at certain times in the hope that some will be inspired to follow through on those instructions. The lack of clear hierarchy has made it difficult to prevent attacks in the past.
Another image shows New York ablaze alongside the words: "We meet for Christmas in New York … soon". Just days ago, an Islamic radical set a bomb off in the U.S. city.
The Department of Homeland Security has issued the following for U.S. Soil:
We continue to face one of the most challenging threat environments since 9/11, as foreign terrorist organizations exploit the Internet to inspire, enable, or direct individuals already here in the homeland to commit terrorist acts.
Homegrown terror suspects increasingly rely on technology, such as end-to-end encrypted social media applications, to avoid detection.
• Terrorist groups are urging recruits to adopt easy-to-use tools to target public places and events. Specific attack tactics have included the use of vehicle ramming, small arms, straight-edged blades or knives, homemade explosives, and poisons or toxins.
• Some terrorist groups overseas are using battlefield experiences to pursue new technologies and tactics, such as unmanned aerial systems and chemical agents that could be used outside the conflict zones. Additionally, terrorists continue to target commercial aviation and air cargo, including with concealed explosives.
• Violent extremist media encourages individuals worldwide to launch attacks using all means possible. Continued U.S. and partner successes in disrupting and defeating terrorists on the battlefield may encourage homegrown terrorists to carry out acts of violence in the homeland instead of attempting to travel overseas to fight or in retaliation for apparent losses.
• Additionally, foreign terrorist fighters who have acquired training and battle-tested terrorism experience may flee from terrorist-controlled territories with a desire to conduct attacks elsewhere, including the United States.
What most people do not realize is that the United States along with DHS, do not elevate the warning above "Elevated" unless either a credible terrorist attack is imminent or AFTER a terror attack on U.S. soil. 
Merry Christmas and God Bless.
H/T BREITBART
 Huny Badger is a Veteran who served our country as an Army Combat Medic.
TOGETHER WE WILL MAKE AMERICA GREAT AGAIN!
Dean James III% AMERICA'S FREEDOM FIGHTERS
FOLLOW us on Facebook at Nation In Distress!
Please like and share on Facebook and Twitter!